By Heather Hetterick and Matt Reese
City neighbors move in next door and the don't like the smells and dust of farm life, voters are too easily swayed by emotional issues and not the facts, farmers' efforts are taken for granted — folks in agriculture spend a tremendous amount of time complaining about the rift between production agriculture and the general public, and all of the associated challenges and problems.
But rather than complain about the problems, Fair Oaks Dairy in northwestern Indiana started the Fair Oaks Dairy Adventure in 2004, which has become the nation's largest agritourism destination. The dairy gives nearly half a million annual visitors complete access to every aspect of dairy farming and, in the process, makes great strides in narrowing that consumer-agriculture gap.
The next step in this wildly successful venture is the addition of Legacy Farm, a fully functioning, 2,400-sow farrowing/gestation operation that is funded, built, owned and operated by Belstra Milling.
The education component, the Fair Oaks Pig Adventure, is a $9.6 million effort that will result in a visitor-friendly center as well as construction of the pork education center and various educational elements. The Fair Oaks Pig Adventure is set up as a not-for-profit 501(c) 3. The National Pork Board committed $2 million and the Ohio Pork Producers Council have committed $125,000 over a four year period to the project.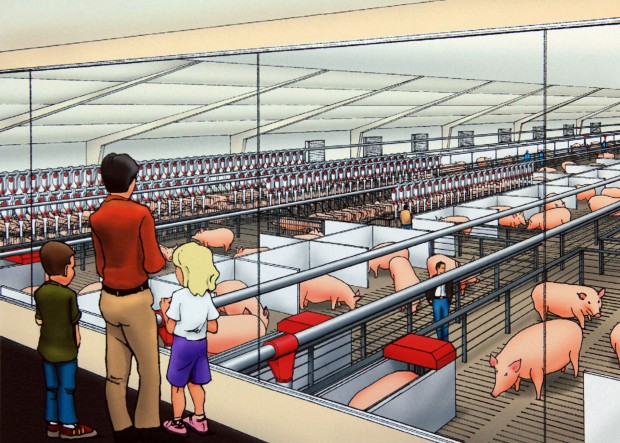 Paying visitors will be able to observe swine farming practices from look-in corridors above the live hog operation, interact with the workers who actively care for the pigs and have questions answered by on-site experts. Video conferencing technology will allow classrooms and other off-site visitors to also take part in the learning.
To continue the idea of transparency throughout the entire process, the Fair Oaks Pig Adventure was very discerning in finding three contract finishing operations that would support the ideals and standards of the operation and also open their barn doors to the non-farm public. This is where a couple of Ohio hog producers come into the picture.
"Fair Oaks is an attempt to really throw open the barn door and let people see what is going on inside one of these larger production units so the public can see firsthand what is inside these buildings and add transparency to the industry," said Chuck Wildman, from Clark County, who is converting his operation to accommodate an arrangement with Legacy Farm. "The industry has tried various things to try and inform the public on what's going on and this is another step and a unique effort doing anything like this on this scale. Their commercial pig production unit is structured like any other commercial pig production site would be. It is paid for by birthing baby pigs and selling them to people like me who will raise them into market pigs."
Wildman will be making significant changes in his farrow-to-finish operation.
"We've got 650 sows right now producing the flow of baby pigs to keep my barns full. When we start this we will discontinue the birthing process. We'll stop farrowing and all of that will be done there at the barn in Indiana," Wildman said. "Our role will be to receive those baby pigs when they are weaned and take them through production to market. We are converting a farrowing building into a nursery for raising baby pigs. It is a fairly easy conversion of the building since the building is already set up for that size of animal."
Wildman will get 2,000 pigs at a time that are fairly close in age and finish out around 25,000 a year.
"We'll stop our breeding operation around the first of the year, so the last pigs from our facilities will be born in April. As they move into the nurseries, then we can start converting the facility in May or June and we anticipate receiving the first pigs from Fair Oaks after that," Wildman said. "I invite people to go out and see Fair Oaks. If you drive about a mile north, you can see the construction of the hog barn. When people look at that sight it completely changes their perceptions and ideas about what is going on."
Maybe the biggest change for Wildman is the presence of cameras in his barns that will likely be a part of the transparency and the learning process for those on the Fair Oaks Pig Adventure.
"We put up basically what is like a home security system that includes about four cameras. One camera is focused on the loading and receiving area, one is in the office control room where all of the water valves and feed switches are and one camera in each of the two rooms where the pigs live," he said. "We set that up and had it running, but then about two weeks later, we had a lighting strike which blew that camera right off the pole we had it mounted on and burnt the wires back into the building. We had to totally redo the whole thing. We have since gone back out and gotten it running, but we haven't gotten our Internet link established yet. When we get that going you'll be able to see real time what those cameras are seeing. The vision is that, as Fair Oaks gets better established, this will be an expansion of their efforts in transparency so people can see what happens with the pigs after they leave there. The idea is about transparency. This is a new thing that has not really been done before.
"I've kind of gotten used to the cameras. It is in the back of my mind that the cameras are there, but I am not really conscious of it all the time," he said. "I haven't noticed that it changes my behavior in particular. It will be an interesting experiment to see how all of this goes. Hopefully we can all learn together."
Look for more about this story and hear from the other Ohio hog farmer involved in the Mid November issue of Ohio's Country Journal.